How Douyin advertising works for Western businesses in China
To help grow your Western brand successfully in China, it's important to understand advertising on Douyin. This social media platform, called TikTok in the West, owned by ByteDance, has exploded in popularity in China and its hugely sophisticated infrastructure offers advertisers plenty of options to reach targeted, niche audiences effectively.
With the size of the Chinese user market on Douyin – 600 million users active every month in China – it's all about the targeting if you want to see seen and heard amongst the competition! So let's take a look at the different advertising options available on Douyin.
The Three Ad Types on Douyin to Know
For successful advertising on Douyin, Western brands will want to concentrate on the so-called 'standard' ads, of which there are three types, TopView, Brand Takeover, and In-Feed Ads. Taking each in turn:
TopView
This is a full-screen and high-impact advertising view that immediately showcases your brand as the user opens their Douyin app screen. With static or full video ads that last from 4-60 seconds, brands can immediately provide an impactful, engaging form of visual storytelling with user engagement, flexible linking options, and powerful analytics. Nielsen Research found that TopView Douyin adverts result in an 18% uptick in brand awareness, 99pc brand favorability score, 89% brand recommendation, and 78% purchase intention. They are charged by CPM or CPT.

(Image source: Douyin)
Brand Takeover
This splash screen advertising option also takes up the user's full screen for immediacy and impact and it supports rich media (video, pictures, or gifs) and flexible linking, giving brands a ready platform to share highly engaging branded content. Advertisers can buy on a national or city-wide CPT basis.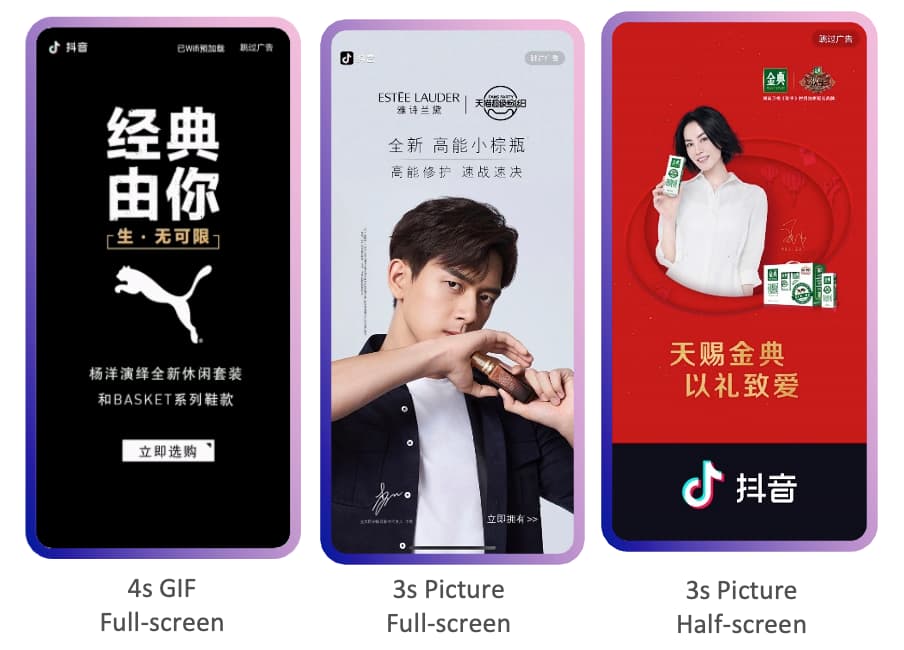 (Image source: Douyin)
In-Feed Ads
As the name suggests, these ads appear in the user's viewing experience, showing branded content of up to 60 seconds with features such as engagement (like, share, comment, etc), sound auto-play, and more. You can choose two types of placement:
1. CPM with defined audience targeting offers precise marketing and the ability to optimise your adverts for placement, reach, click rates, and interaction.
2. CTP allows you to block book your advert for a certain time period and/or location, for maximum awareness.
Feed Ads are seamlessly integrated into the native feed, are completely undisturbed for the best viewer experience and ads can even be shared by viewers across platforms, enhancing cross-platform reach for your brand. It's worth noting too that there are extras you can buy for In-Feed or TopView Ads, including Super-Like, Display Card, Interactive Card, and Premium Badge options, all of which allow users to click and play your video.

(Image source: Douyin)
When to use each type of Douyin advert?
Each of these three main types of standard form of advertising on Douyin can be used by brands for specific marketing purposes. For example. For the awareness phase, brands will typically use Brand Takeover adverts, followed by TopView and In-Feed ads. For interaction purposes, they will opt for TopView and In-Feed ads, and for conversion, they will again focus on the use of In-Feed Ads. (There are also other types of campaign to consider further down the line such as Hashtag challenges.)
Getting your targeting right
Most of Douyin users are based in affluent tier 1 and tier 2 cities as well as tier 3-4 cities, and 80% of Douyin users are from major consumer groups aged 19-40. If your target audience encompasses young and affluent Chinese customers, this is a great platform for your Western brand, particularly when it comes to attracting new customers and building your fan base. For Douyin users, the most important thing they want to see from adverts is fun and engaging content – remembering that Chinese customers enjoy online advertising in a way that Western customers tend not to.
The platform allows advertisers to be extremely precise in their targeting, offering options to target for age, gender, location, interests, and so forth. Advertisers also gain access to a superb range of analytics, allowing them to carefully optimise and adjust ad campaigns and to measure success with a high degree of precision. Of course, Douyin – like other Chinese social media platforms – operates entirely for the Chinese market, so many Western brands will typically use the support of a Chinese digital marketing agency to overcome language barriers and to provide ready expertise in this niche, fast-growing field.
The Colgate Case Study
Colgate is just one brand that has used Douyin advertising for real success. It created a #WorldSmileDay hashtag challenge and used a tightly selected group of content creators to share a 'smile and go for it' branded message with its target audience. Using In-Feed ads to promote the campaign, users shared videos of themselves with bright smiles – which then transformed them into magazine cover models. The campaign was highly successful in building brand awareness and engagement, amongst Colgate, target customers, and creators. In just seven days, the campaign resulted in over 926 campaign views on Douyin, over 226k participants, and a whopping 289k video posts!
Steps for success with your Douyin advertising campaign
1. Remember your audience – this platform is for young, and highly tech driven customers who love engaging, fun, and creative content. Your content needs to be as rich and appealing as possible to their needs.
2. Use the breadth of Douyin advertising features available – for example for your campaign you can leverage the branded effect function so that your users can have fun adding settings and filters (make-up change, AR filter, 3D effects, and more) to their campaign response videos.
3. Customise ads to add auto-play, sound on / off features, and test your Call To Action, so that it links either to your In-App shop or branded website.
4. Use a Chinese digital marketing agency to make this entire process quick and easy – and to evidence results!
How Market Me China can help with Douyin Advertising Success
Whatever your industry or objective, we can help you to create, manage and evaluate successful advertising campaigns on Douyin. Our team of Chinese-speaking digital experts work with brands to deliver Douyin advertising campaigns that bring the results that they need, handling every angle of the campaign required by the client, and evidencing results at all turns.
Online advertising can be hugely expensive and it's vital to get it right the first time – from creating content that will have the right impact, to carefully and correctly optimising your campaigns. Get better results – contact Market Me China today to find out how we can help you.